Scroggin:Nuts provide sustainability and protein, the dried fruit provide carbohydrates and the chocolate […] is there […] when you need the energy to climb a hill.

– Urban Dictionary, 2008
A term used in Australia and New Zealand for trail mix

Wikipedia, 2015
Skiing continuously evolves: new styles appear, unknown skiers reach superstar status with one Internet video, doubles and triples have become conventional and we are expecting a quadruple flip at any moment. Rap slang (Wu), animals (the kangaroo), bread products (pretzel) and D-grade celebrities (K-Fed) have become the inspiration for these trick and scene developments. But where does trail mix fit in?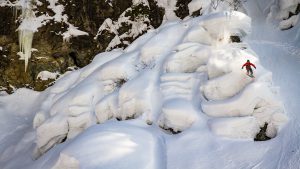 "XY is not just a word, it's a lifestyle!" This washed-out Facebook or interview cliché couldn't be more lame—the hashtag creations of certain #lovethelifeyoulivelivethelifeyoulove pseudo-philosophers are most definitely not the topic we want to analyse any further today. However, in this very special circumstance, this old chestnut of an idiom may fit perfectly to "Scroggin".
Who exactly imported the term Scroggin into the European Alps will in all likelihood remain an eternal mystery. "Scroggin munching" has been used by Kiwis in that faraway land for quite some time, and refers to various sweat-inducing outdoor activities; "Scrog Muncher" naturally characterises the athlete involved in such activities. Needless to say, Scroggin is a term that has arrived on our shores and is here to stay; a genius adaption that has transformed trail mix—the sustenance of many endurance athletes—into a lifestyle.
Scroggin is universal, the Scrog is actually its own universe, and finally an off-shoot of skiing that has been vilified and considered uncool by a large portion of the freeski scene will receive the recognition it deserves, because ski touring and ski mountaineering are back!
Multiple variations of our most celebrated Australian and New Zealand term for dried nuts and raisins have sprung out of this development, most not entirely grammatically correct. First the verb appeared (I am going scrogging tomorrow."), naturally the fitting substantive followed ("I have to go outside, I feel the Scrog") and finally a never-ending word family was created: those that undertake long and challenging expeditions into the mountains are following the Real Scrog, while those competitively inclined Scrogdogs attempt to outscrog each other. (At this point one should note that the sexual connotations that may be associated with the term in American slang, do not apply here).
The deeper philosophy of Scroggin is so simple and yet powerful: on every mountain peak and at the drop-in of every line that you have reached using your own power, you can feel it. You are a Scrogger!